THE WORKPLACE WELLBEING PRACTITIONER'S CERTIFICATE

Date: 2-3 October 2019.
Location: London.
Duration: Two days, 9am to 5.30pm.
Format: Classroom course, maximum of 12 attendees.
Fees: £1,095.00 + VAT per delegate. Buy one ticket on this class, and bring a colleague for free to this class.
There is now an increasing recognition of the importance of individual wellbeing inside the workplace. To get the very best out of their organisation, many managers are choosing to adopt practices to increase the wellbeing of their staff. Growing number of organisations are putting employee wellbeing firmly on the corporate agenda. A comprehensive government study – Does Worker Wellbeing Affect Workplace Performance? – suggests improvements in wellbeing will result in higher workplace performance – in profitability, productivity and the quality of outputs or services.

WHAT IS WELLBEING?
'It's a ubiquitous and positive existence that includes being emotionally, spiritually, socially, financially and mentally grounded. A positive state of wellbeing is characterised by overall contentment and balance in your life. Essentially, workplace wellbeing is more about positively existing than it is about improving your health. It's inextricably linked to the employment value proposition of your organisation with a focus on creating the right environmental conditions to enable you to perform to your best in order to achieve mutual success and growth through employment.' – Evan Davidge, Director, The Wellbeing Leader.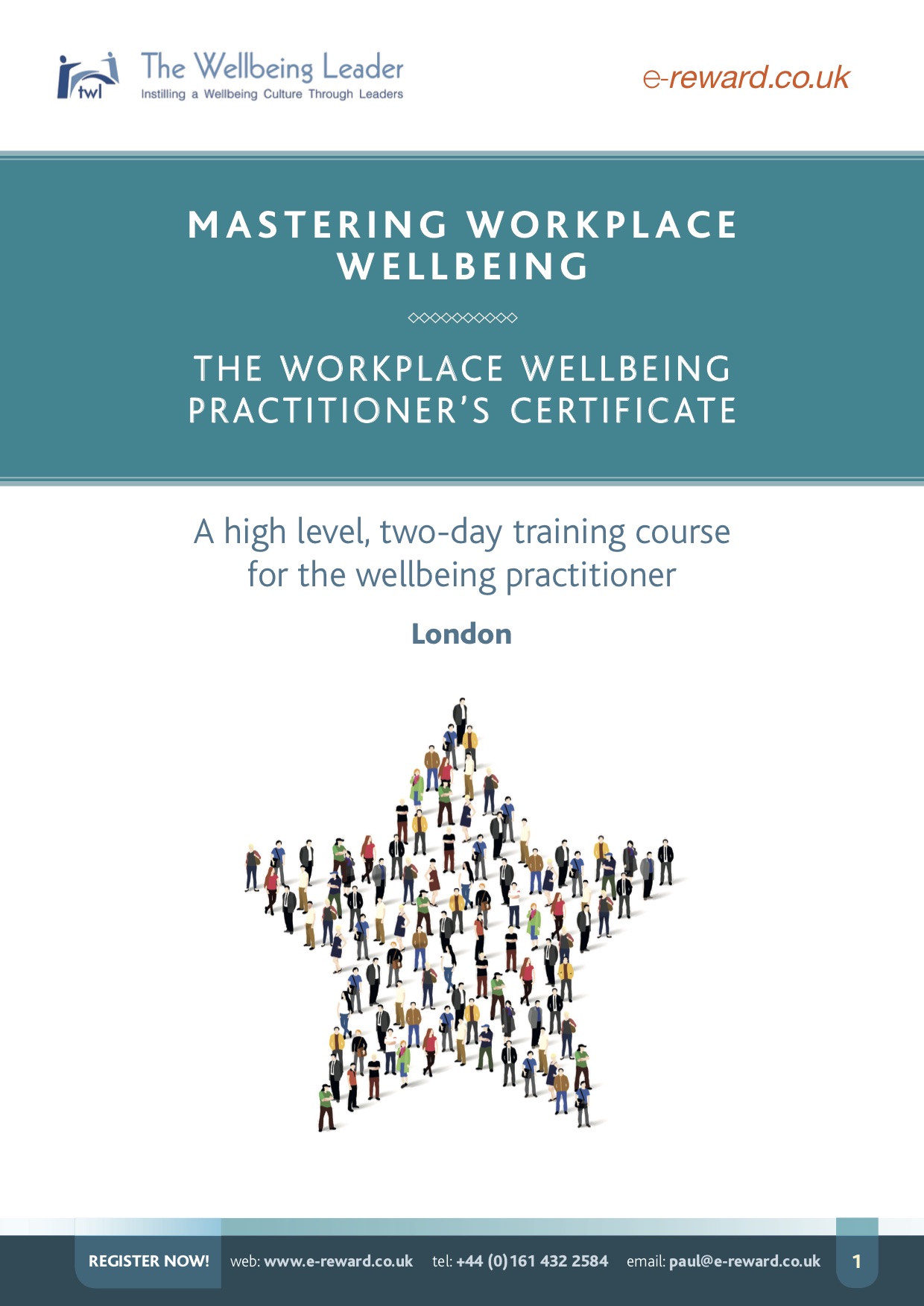 But the 'blind spot' of wellbeing is when we overlook the professional needs and demands of those charged with responsibility for making it land effectively in the workplace at operational, tactical and strategic levels. Indeed, the wellbeing of practitioners is at risk themselves as many of them have little or no training, no prior knowledge or experience and limited support and resources. All too often, wellbeing is only part of their responsibilities or bolted onto their day job.
Moreover, external 'experts' may not be totally cognisant of the theoretical concepts and practical application of the diverse approaches to workplace wellbeing. As a result, wellbeing practitioners risk being led by best practices rather than best fit. Without the theoretical and conceptual underpinnings of workplace wellbeing – including critical evaluative skills – there is a high risk workplace wellbeing will fail to achieve legitimacy as an organisational imperative.
The Mastering Workplace Wellbeing course is perfectly designed to fill that gap and professionalise workplace wellbeing practice. This two-day course covers workplace wellbeing in an organisational and international context, providing delegates with the knowledge and understanding of environments in which they as practitioners can plan, implement and evaluate wellbeing programmes to support strategic operational goals.
Launched in partnership with The Wellbeing Leader, our course is structured on the lines of a voluntary code of practice, which sets core standards and competences based on survey feedback given by workplace wellbeing practitioners. Clear learning outcomes are defined along with a training syllabus, objectives and course content.
Day 1 focuses on the strategic, tactical and operational contexts.
Day 2 largely comprises an interactive group exercise based on a fictitious organisation, pulling together all the learnings from Day 1 experientially. Time will be built into a plenary session, followed by feedback and course evaluation. Finally, delegates will be presented with their course certificates.
To ensure that it fits each individual's needs, delegates will be asked to complete a survey prior to the course to identify their specific knowledge gaps and training requirements. Delivery of the content can then be tailored accordingly.
PURPOSE AND AIMS OF THE COURSE
Acquire both theoretical understanding and practical application of the diverse approaches to workplace wellbeing and be able to critically reflect on the strengths and limitations of these approaches in promoting individual and organisational wellbeing in conjunction with a voluntary code of practice.
Examine the foundations for workplace wellbeing in modern organisations and how these can be integrated into appropriate strategic designs that provide considerations of relative value and worth, individual and collective engagement, risk management, agile organisations and productivity.
Comprehend the relationship between traditional, contingent and developmental choices of workplace wellbeing, including the use of diagnostic and evaluative skills in designing flexible approaches to health and wellbeing and the challenges of international organisations.
Personally reflect on wellbeing practitioner skills and competences from an ethical and professional standpoint in line with the voluntary code of practice to embark on continuous professional development in the discipline.
WHO SHOULD ATTEND
This course is intended for professionals who:
have responsibility for workplace wellbeing decision making within an organisation at an operational, tactical or strategic level
are HR or OH professionals in a dedicated workplace project team, or partly engaged in a wellbeing functional role, and are seeking to enhance and develop their professionalism
are independent or employed consultants who support organisations in meeting their workplace wellbeing goals
have workplace wellbeing career and professional aspirations
are committed to following/furthering a voluntary code of workplace health and wellbeing practice
are either at the conceptualisation stage or wishing to leverage an existing workplace wellbeing programme
Our tutor Evan Davidge says:
'I'm a firm believer in delivering the right training, resources and codes of practice to optimise healthier workplace behavioural changes. This course is designed to facilitate a more informed, holistic and proactive approach to workplace wellbeing, delivered by visionary and competent practitioners.'
WHAT YOU WILL GAIN FROM THIS COURSE
On completion of this course you will be able to:
Analyse the relationship between the environment, strategy and models of workplace wellbeing.
Explore the conceptual apparatus and theoretical debates informing workplace wellbeing.
Critically evaluate key issues and practical applications of workplace wellbeing.
Identify the critical skills, competencies and attributes required to improve your effectiveness as a workplace wellbeing practitioner.
Design a high impact wellbeing programme that will align with your external brand and contribute to higher productivity and business success.
Analyse and implement employee wellbeing in an international context.
Produce an effective communication plan to influence both organisational and individual wellbeing behavioral change.
Implement workplace wellbeing governance and risk management controls.
Identify key measures of success and performance indicators.
Employ tactical use of third parties to provide expertise, resources and additional value.
Expand your network of workplace wellbeing practitioners through an alumni and special interests group.
TERMS AND CONDITIONS FOR E-REWARD.CO.UK COURSES
THE FOLLOWING TERMS AND CONDITIONS APPLY TO THE DELIVERY OF EDUCATION COURSES BY E-REWARD.CO.UK LTD (INCLUDING MASTERING REWARD COURSES; WORLDATWORK GLOBAL REMUNERATION PROFESSIONAL CERTIFICATION [GRP] COURSES AND EXAMINATIONS [PROGRAM]; IN-HOUSE AND CUSTOMISED TRAINING COURSES).
These terms and conditions apply between the person, firm, company or other entity specified on your booking form and E-reward.co.uk Ltd (company number: 4281768). Registered in England and Wales. Registered office 33 Denby Lane, Heaton Chapel, Stockport, Cheshire SK4 2RA, United Kingdom for delegate registrations for the course (including Mastering Reward courses, GRP courses with exam and in-house training courses) specified on your booking form ('Course').
Please read these terms and conditions carefully as they contain important information.
By submitting your registration to attend the Course you agree to be bound by these terms to the exclusion of all other terms. If you do not agree to be bound by these terms E-reward.co.uk Ltd will be unable to accept your registration.
Payment
You will pay E-reward.co.uk Ltd any fees specified in your booking form for the Course. Payment to E-reward.co.uk Ltd in GBP British Pounds is by BACS, wire transfer, cheque or credit card. It is a condition of booking that payment must be received by E-reward.co.uk Ltd before the start of the Course or no later than 30 days from the date of invoice, whichever is sooner.
If payment of your fees in full is not received before the Course, E-reward.co.uk Ltd may (at its sole discretion) either require such payment as a condition of your entry to the Course or refuse you entry to the Course.
Prices for each Course, where applicable, are correct at the time of publication. We reserve the right to change the prices at any time but changes will not affect registrations which have already been confirmed by E-reward.co.uk Ltd.
Each ticket covers attendance for one person only for the duration of the Course, and includes coffees, teas and light snacks during the lunch hour, as well as course materials.
All bookings are subject to value added tax (VAT) at 20%. You shall, on receipt of a VAT invoice from E-reward.co.uk Ltd, pay to E-reward.co.uk Ltd such additional amounts in respect of VAT as are chargeable on the supply of the Course.
Late payments
We understand and will exercise our statutory right to interest and compensation for debt recovery costs under the late payment legislation if we are not paid according to agreed credit terms. Under the Late Payment of Commercial Debts [Interest] Act 1998 – as amended and supplemented by the Late Payment of Commercial Debts Regulations 2002 (to incorporate the features of European Directive 2000/35/EC) – we are entitled to charge:
Debt recovery costs – £40 on debt up to £999.99; £70 on debt between £1,000 and £9,999.99.
Statutory interest – 8% above the Bank of England reference rate (fixed for the six month period within which date the invoices became overdue).
Delegate cancellations
Delegates who advise E-reward.co.uk Ltd of their cancellation in writing via email (to paul@e-reward.co.uk) 30 calendar days or more before the start of the Course will have their fees refunded – less an administration charge of 20% of the Course fees.
No refund will be made for cancellations received less than 30 calendar days before the start of the Course. Failure to attend the Course will be subject to the same terms.
You will not have any right to cancel a Contract for the booking of any customised/in-house training courses.
Delegate transfers
Transfers may be made to any other Course in the UK organised by E-reward.co.uk Ltd subject to space availability. All transfer requests must be made in writing via email (to paul@e-reward.co.uk) 30 calendar days or more before the start of the Course. There will be no fee charged for such transfers. One free transfer can be made for each course booking after which there will be a £100 administration charge for each further request.
Please note: We are unable to accept any transfer requests received less than 30 calendar days before the start of the course and no refunds will be made.
Substitutions with employees from your organisation are welcome at any time at no extra charge. You must email any substitutions (to paul@e-reward.co.uk) prior to the date of the Course.
Joining instructions
Final Course details will be emailed to delegates at least three weeks before the Course.
Course documentation
You will receive your course materials by post (First Class, Standard delivery) ahead of the Course. Participants registering 0-14 days before the start of the Course will receive their course materials on arrival for registration on Day one of the Course.
Hotel accommodation
Delegates are responsible for their own accommodation.
Course cancellations and amendments
The Course programme is correct at the time of going to press.
E-reward.co.uk Ltd reserves the right to change the format, speakers, venue location and programme or any other aspect of the Course at any time and for any reason, whether or not due to a Force Majeure event, in each case without liability.
'Force Majeure Course' means any event arising that is beyond the reasonable control of E-reward.co.uk Ltd including (without limitation) speaker or participant cancellation or withdrawal, supplier or contractor failure, venue damage or cancellation, health scares, industrial dispute, governmental regulations or action, military action, fire, flood, disaster, civil riot, acts of terrorism or war.
E-reward.co.uk Ltd reserves the right to change the date or cancel a Course at any time and for any reason without notice. Where circumstances force E-reward.co.uk to cancel a Course, E-reward.co.uk Ltd shall offer you the option of attending any rearranged Course that E-reward.co.uk Ltd chooses to organise.
If you do not wish to accept this offer, then you will (as your sole remedy) be entitled, at your discretion, to receive either a credit note or a refund in respect of your fees received by E-reward.co.uk Ltd for that particular Course.
However, where the Course is postponed for reasons due to a Force Majeure event, any of your fees received by E-reward.co.uk Ltd shall be applied to any rearranged or rescheduled Course and all these Terms and Conditions shall apply to any such transferred booking.
To the fullest extent permitted by the applicable law, E-reward.co.uk Ltd shall not be liable to you for any loss, delay, damage or other liability incurred resulting from or arising in connection with the cancellation or date change of the Course howsoever arising or any venue change.
For the avoidance of doubt, you acknowledge and agree that should the Course date be changed or cancelled, E-reward.co.uk Ltd is not liable for any travel or accommodation costs you may have incurred.
Disclaimers
To the fullest extent permitted by the applicable law, E-reward.co.uk Ltd excludes:
all liability for loss, injury or damage to persons or property at the Course;
all indemnities, warranties, representations, terms and conditions (whether express or implied); and
any actual or alleged indirect loss or consequential loss howsoever arising suffered by you or any loss of profits, anticipated profits, savings, loss of business revenue, loss of business, loss of opportunity, loss of goodwill, or any other type of economic loss (whether direct or indirect).
If E-reward.co.uk Ltd is liable to you for any reason, its total liability to you in relation to the Courses (whether under these terms or conditions or otherwise) is limited to the amount of your fees received by E-reward.co.uk Ltd.
Views expressed by the Course instructors are their own. All advice provided at this course is for general guidance only. Any course delegates relying on information or advice given in the course of such training do so at their own risk.
E-reward.co.uk reserves the right to amend these terms and conditions from time to time. However, you will be subject to the terms and conditions in force at the time you submit your registration.
Last updated: 22nd January 2018.