Two half days, class instructed and developed by Nigel Marriott, independent statistician and fellow of the Royal Statistical Society.
Date: 9-10 February 2021.
Location: Your PC via zoom.
Duration: Two days, 9.30am to 1.00pm.
Format: Classroom course. Places are limited to 11 delegates to maximise interaction within the group.
Fees: £500.00 + VAT per delegate.
A course delivered by a statistician who specialises in making statistics simple for non-statisticians.
You will gain an understanding and exposure to the statistical mindset that is needed in order to analyse your organisation's pay gap data correctly and to draw correct conclusions with confidence. It's one thing to produce the numbers – and there is much software out there that does this – but it's quite another to have the confidence to know that you are interpreting the data correctly.
The missing link is the statistical mindset known as Statistical Thinking. Nigel will change the way that you look at, think about and use data. Need more convincing? Check out his course feedback [PDF] (from his other training events) which constantly back up this view.
Delegates will receive a number of spreadsheet-based tools and templates that will make analysis of pay gap data easier and quicker to do. They will be able to practise using them in the course and learn how to interpret their outputs correctly. No more need for HR professionals to use fancy, expensive software when Excel can do the work for you.
'The key point of the course is going beyond the measuring the gap, for which there are only a few ways, to understanding what your gap is, what the measures tell you and don't tell you, how to interpret your data so that you understand why the gap exists and then work out what ways of closing the gap are likely to be the most effective.

' – Nigel Marriott, your course tutor.
Your course instructor
Nigel has extensive experience of working with, explaining statistical ideas to and providing training for non-statisticians. He was a contributing author to the Royal Statistical Society's April 2019 report Better Data for Fairer Employment: Statistics role in tackling the gender pay gap [PDF].
You can view his appearance before the Treasury Select Committee investigating the effectiveness of gender pay gap reporting on 5 June 2019.

Nigel also blogs extensively on issues of diversity and pay gaps and you can find all his blogs here.
What is the aim of the course?
To close a gender pay gap you have to do three things:
1. Measure where you are today.
2. Specify where you want to be in the future.
3. Identify the most effective way of getting there.
All three steps require one magic tool. One that very few people understand. The use of statistical thinking and statistical methods. Other skills and processes are needed but nothing can succeed on its own without the help of statistics.
The aim of the course is to provide you with an introduction to pay gap analytics – both gender and ethnicity. You will learn how to interpret gender pay gap data and identify how to close a gap using statistical thinking and the basic functions of Microsoft Excel.
This course is tailored to HR/reward and other professionals with little or no statistical skills and will teach the basics required to get started.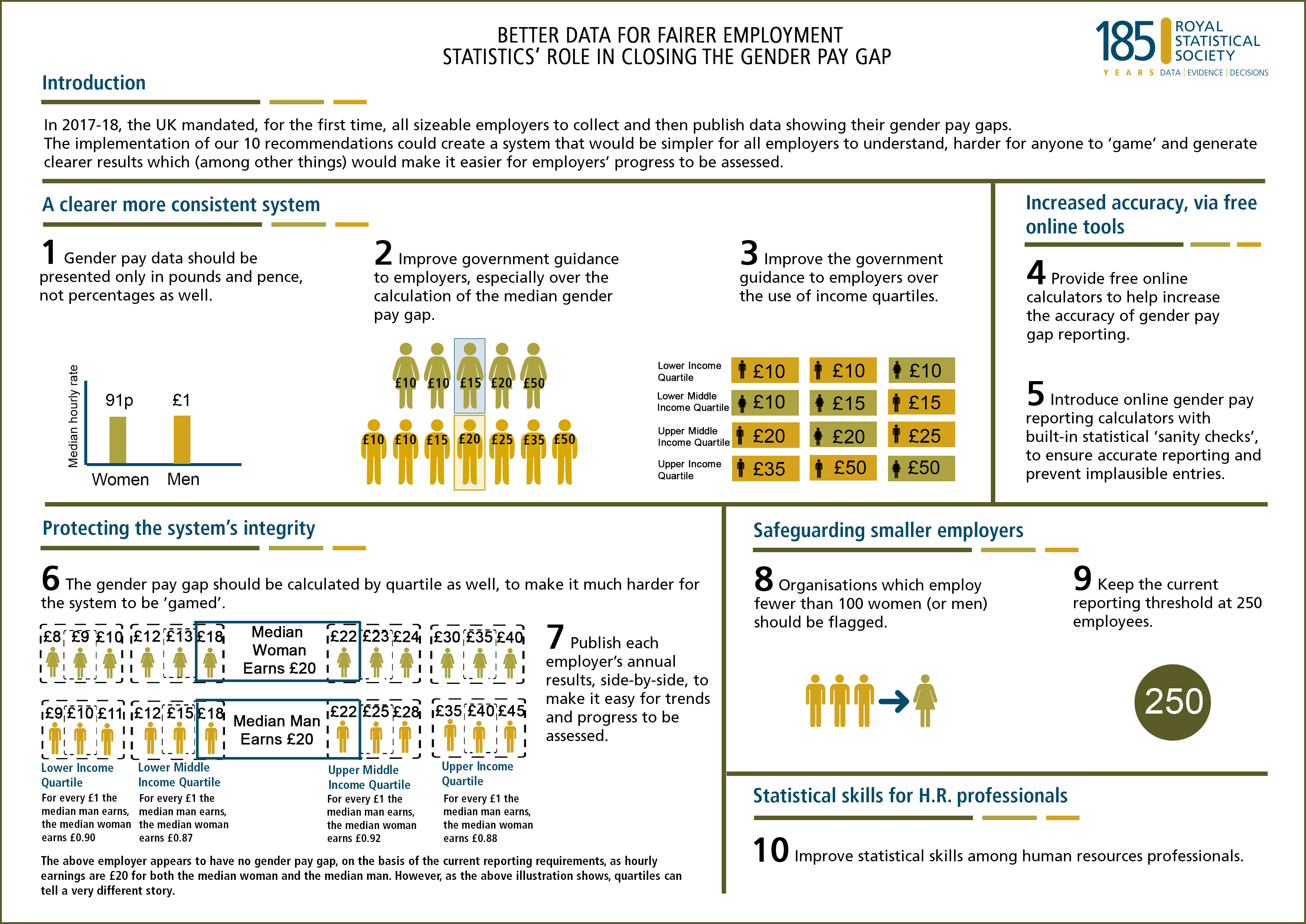 Source: Royal Statistical Society.
Who should attend this course?
It doesn't matter what department you work in, if you are any way involved in your organisations gender pay gap reporting process and struggling with how to calculate the figures or understand what they mean for your organisation then this is the course for you.
If you have to produce, present and report on gender pay gap data and develop and track actions to close pay gaps then this course will make your job much, much easier and more effective.
Course prerequisites
In order to get the most out of this course, participants will require:
An awareness of the basic requirements of gender pay gap reporting.
Some familiarity with employment practices that could help close pay gaps.
A fully-charged laptop with Microsoft Excel installed [Excel 2010 or later]. A spreadsheet with the data to be analysed during the course will be emailed to you before the course.
Be comfortable with the basic operations of Excel such as entering data, undertaking simple calculations such as the average and producing simple charts.
It is important to note that this course is not a training course in Excel or the details of the legislation about gender pay gap reporting hence why some familiarity with these is needed. However, you will learn additional details about both of these topics during the course.
What you will learn?
The course begins with the calculation of the mandatory statistics that you have to submit in your statutory gender pay gap report and we will explore what they do and do not tell you i.e.:
Mean and median gender pay gap and bonus gap.
The four income quartiles and the gender breakdown within each.
The course then introduces you to additional ways to make your figures more meaningful and easier to interpret. These methods can also be used to identify the most effective way to close a gender pay gap once you have specified where you want to be. Specifically:
How to plot your results in a variety of chart formats.
How to interpret your results especially your income quartile data.
How to prepare and interpret a year-on-year comparison.
How to identify where more in-depth analysis may be worthwhile.
Having worked out where your organisation is today and why you have a gender pay gap, the course will then help you to figure out what 'success' looks like for your organisation in the future, including:
How to work out what no gender pay gap would look like in your organisation.
How to identify if that goal is achievable in the next few years by analysing the pay gaps of other employers.
Using the above two steps to specify what your goal looks like in terms of the mandatory statistics and any additional statistics.
Finally, using the tools we covered earlier for understanding our pay gaps in more depth, we can work out the most effective way to achieve our goals, specifically:
How to identify the key drivers of your pay gaps.
How to separate the internal drivers from external drivers.
How to work out which statistics will need to be tracked over time and thus should be included in your action plan.
The course will have ample opportunities for you to practice the calculations in Excel and will introduce you to a spreadsheet template which you can use for your own data both during and after the course.
SCHEDULE
DAY 1
Session 1
Introduction and objectives
EXERCISE – Using the Dashboard to interpret our raw payroll data
The statutory gender pay gap calculations defined
Coffee break
Session 2
Interpreting the Gender Pay Gap Dashboard
Spotting errors in pay gap data
EXERCISE – Should the reporting threshold be lowered to 30 employees?
DAY 2
Session 3
EXERCISE – Comparing employers within industry sectors
What is the difference between Pay Gaps and Unequal Pay?
Analysing bonuses, promotions and recruitment with Conditional Probability
Coffee break
Session 4
EXERCISE – Are white employees more likely to get a bonus?
EXERCISE – What are the key drivers of our gender pay gap?
What is the best way to close a pay gap?
CLOSE
Nigel Marriott

Independent statistician and fellow of the Royal Statistical Society.
Nigel Marriott has extensive experience of working with, explaining statistical ideas to and providing training for non-statisticians.
Nigel has been running basic statistics courses aimed at non-statisticians for almost 20 years. Feedback has consistently noted that Nigel has a rare ability to explain what looks like complicated statistics in a simple manner that makes it easy for you to understand and apply what you are learning.
Nigel also blogs extensively on issues of diversity and pay gaps and you can find all his blogs here. Find out what previous course attendees think of Nigel: click here [PDF]
Marriott Statistical Consulting was set up by Nigel Marriott in 2006 to provide statistical consulting, training and data management services to clients in many industries. Nigel has accrued a wealth of experience working with research, intelligence, planning and forecasting teams within a broad range of areas such as: purchasing, finance, trading desks, sales, marketing, product design, IT, engineering, manufacturing, quality and scientific fields. This is highly unusual in any profession, but particularly for a statistician, who tend to specialise in particular fields and this has given him fluency in many varieties of technical and non-technical English.
His ability to communicate with any audience from boardroom to shop floor, a high level of commercial awareness and the experience to see how one part fits into the bigger picture are some of the many reasons why his services are highly sought after both nationally and internationally. Before setting up Marriott Statistical Consulting, Nigel worked for two multinational organisations, ED&F Man Ltd and Mars Inc, and was a trustee of the world largest charity for deafblind people, SENSE.

He is a Fellow of the Royal Statistical Society and was accredited by the society as a Chartered Statistician (CStat) in 2003. This is an assurance that he:
Has significant practical experience in addition to academic qualifications
Is committed to a program of continuous professional development
Adheres to the Chartered Statistician's code of conduct