A highly-practical incentive design workshop delivered by Dianne Auld, a world-recognised comp & ben expert.
Date: 29-31 March 2021.
Location: Your PC via zoom.
Duration: Three days, 9am to 1pm (UK).
Format: Virtual classroom course.
Fees: £695 + VAT per delegate.
Brochure: click here to download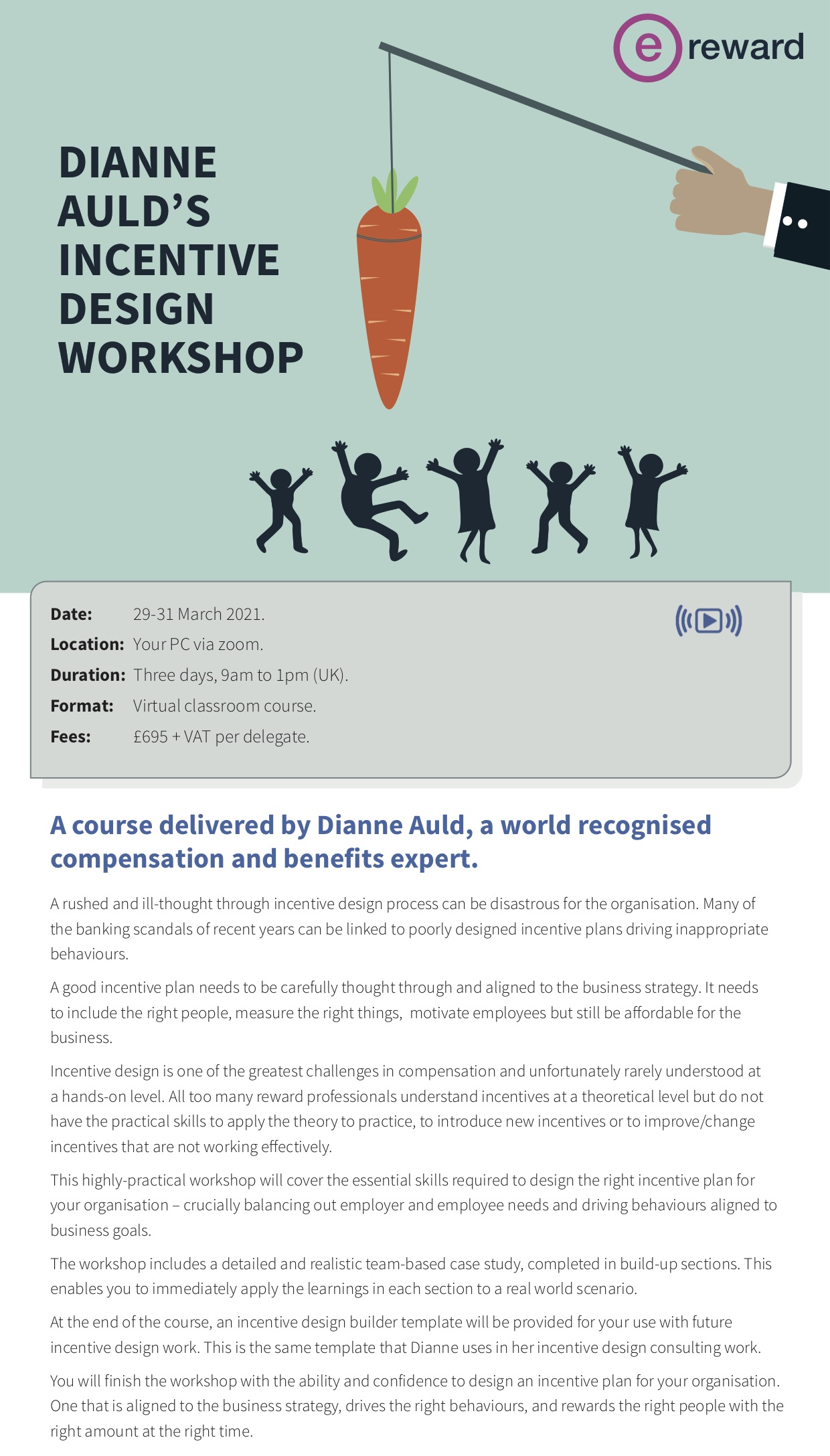 A rushed and ill-thought through incentive design process can be disastrous for the organisation. Some of the banking scandals of recent years can be linked to poorly designed incentive plans driving inappropriate behaviours. A good incentive plan needs to be carefully thought through and aligned to the business strategy. It needs to include the right people, measure the right things,motivate employees but still be affordable for the business.
Incentive design is one of the greatest challenges in compensation and unfortunately rarely understood at a hands-on level. All too many reward professionals understand incentives at a theoretical level but do not have the practical skills to apply the theory to practice, to introduce new incentives or to improve/change incentives that are not working effectively.
This highly-practical workshop will cover the essential skills required to design the right incentive plan for your organisation – crucially balancing out employer and employee needs and driving behaviours aligned to business goals. The workshop includes a detailed and realistic team-based case study, completed in build-up sections. This enables you to immediately apply the learnings in each section to a real world scenario.
At the end of the course, an incentive design builder template will be provided for your use with future incentive design work. This is the same template that Dianne uses in her incentive design consulting work.
You will finish the workshop with the ability and confidence to design an incentive plan for your organisation. One that is aligned to the business strategy, drives the right behaviours, and rewards the right people with the right amount at the right time.
Who should attend?
Newer practitioners in the reward field.
Seasoned reward specialists requiring a skills update or 'refresher training' on the principles and practice of incentive design.
---
SCHEDULE
Each of the three days of this workshop start at 9am and close at 1pm (UK) and there will be a five-minute break at both 10am and 12 noon, with a 20-minute break at around 11am.
DAY 1
Introductions
Overview of incentives
20-minute break
Incentive alignment – Internal and external
Incentive design – Pre-design issues
Case study – Pre-design team exercise
DAY 2
Incentive design 1 – Eligibility: basis for inclusion / exclusion / selection
Case study – Team exercise 1: eligibility
Incentive design 2 – Measures: appropriate measures, linking of measures, using measures to create incentive funding pool, level and frequency of measurement
20-minute break
Case study – Team exercise 2: measures
Incentive design 3 – Financial controls: methods of funding, thresholds and caps, motivation
Case study – Team exercise 3: financial controls
DAY 3
Incentive design 4 – Gain / payout relationship: stepped, continuous gain, payout ramps
Case Study – Team exercise 4: gain / payout
Incentive design 5 – Distribution: types, frequency, variable pay transition, retention
20-minute break
Distribution discussion
Communication and implementation
Communication of incentive plan discussion
Take-aways and learnings from workshop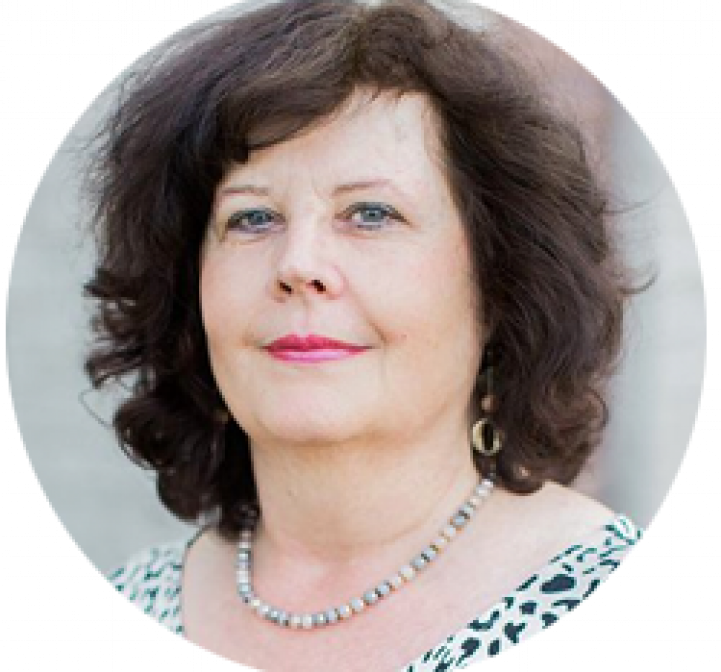 Dianne Auld, GRP, CCP, CSCP
Senior Consultant
Dianne is the founding member of Auld Compensation Consulting, operating out of Cape Town, South Africa. Her consulting work around the world covers all areas of total rewards, including reward strategy, base pay management, job evaluation, pay structuring, incentive design and sales compensation. Dianne has worked with over 40 organisations across multiple industries and countries to design new or re-design existing incentive plans. She has developed and taught Excel and rewards courses in Africa, the Middle East, Asia, Europe, and the United States.
As a WorldatWork faculty member, Dianne teaches the GRP reward qualification courses in Southern Africa. She is the author of Dianne Auld's Excel Tips, 3rd edition. She is an honorary life member of the South African Reward Association (SARA) and an accredited Master Reward Specialist.
SCHEDULE
Each of the three days of this workshop start at 9am and close at 1pm (UK) and there will be a five-minute break at both 10am and 12 noon, with a 20-minute break at around 11am.
DAY 1
Introductions
Overview of incentives
20-minute break
Incentive alignment – Internal and external
Incentive design – Pre-design issues
Case study – Pre-design team exercise
DAY 2
Incentive design 1 – Eligibility: basis for inclusion / exclusion / selection
Case study – Team exercise 1: eligibility
Incentive design 2 – Measures: appropriate measures, linking of measures, using measures to create incentive funding pool, level and frequency of measurement
20-minute break
Case study – Team exercise 2: measures
Incentive design 3 – Financial controls: methods of funding, thresholds and caps, motivation
Case study – Team exercise 3: financial controls
DAY 3
Incentive design 4 – Gain / payout relationship: stepped, continuous gain, payout ramps
Case Study – Team exercise 4: gain / payout
Incentive design 5 – Distribution: types, frequency, variable pay transition, retention
20-minute break
Distribution discussion
Communication and implementation
Communication of incentive plan discussion
Take-aways and learnings from workshop
| | |
| --- | --- |
| Virtual classroom | 29/03/2021 - 31/03/2021 |