Executive Pay
The E-reward Summit Executive Remuneration Database, launched in 2015, collects this vast tranche of information so that your organisation does not need to – saving you months of work. Summit contains data stretching back to 2002 on over 1,500 FTSE 100, Mid-250, SmallCap, Fledgling and AIM companies and is designed with the purpose of providing comprehensive and accurate information at a very competitive price
>>> View a short (3.5 minutes) demo video of the Summit Executive Remuneration Database: https://youtu.be/fLrUAF66-Jk via YouTube. Please get in touch if you require further information: paul@e-reward.co.uk
A number of suppliers of executive information exist but all too often they simply offer basic quantitative data supplemented with a small fraction of the wealth of policy information contained within remuneration reports. E-reward's Summit Database differs from other providers because it is the first time that information on all the significant elements of executive remuneration policy can be found in one place.
Download Summit brochure [PDF]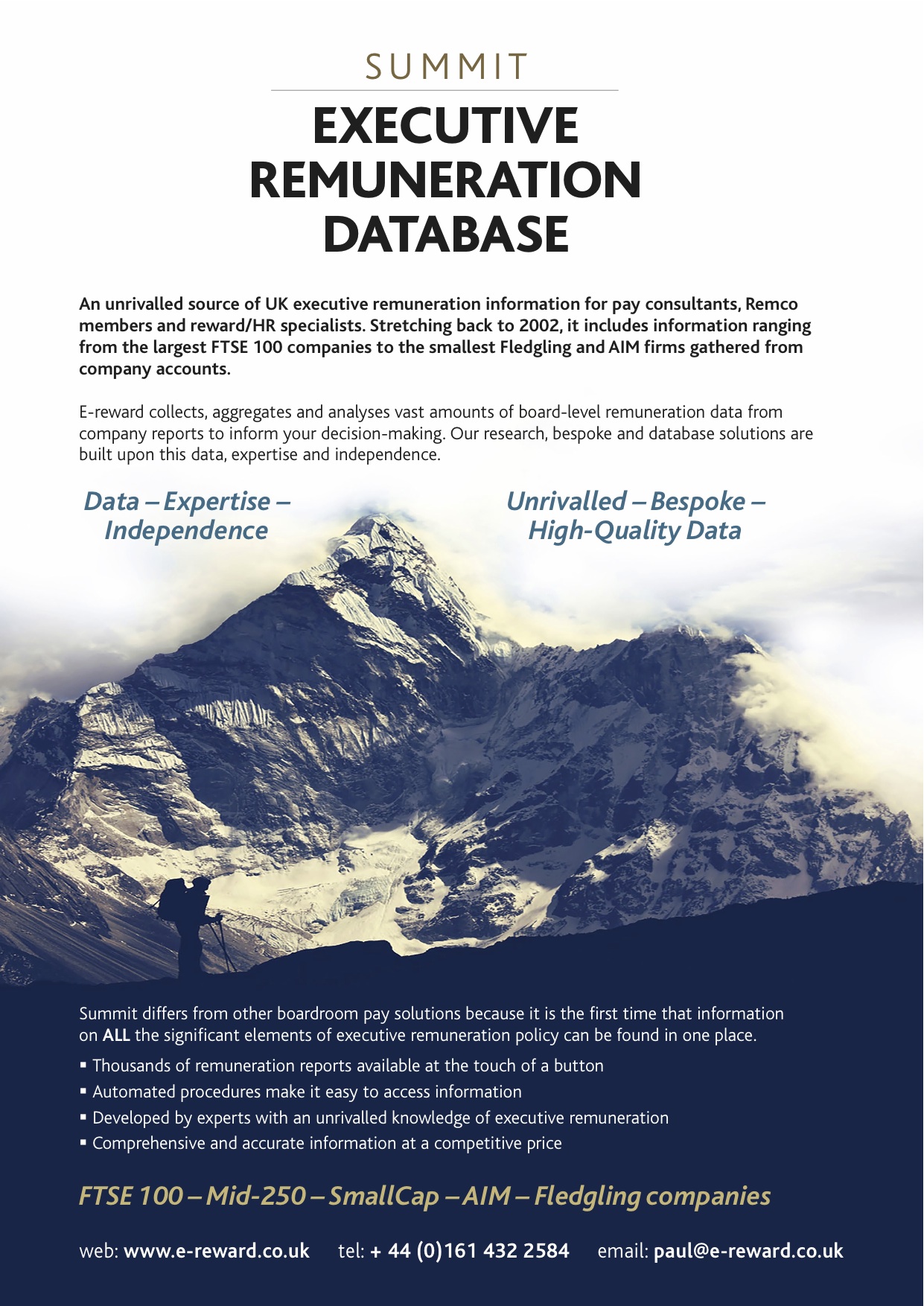 ---
Data, expertise and independence
The database records the key remuneration data from increasingly lengthy and complex remuneration reports with data collected including:
Single figure and realised pay on salaries, benefits, bonuses, LTIP, option and matching schemes
Future pay scenario data
Incentive award levels and gains from vesting
Incentive scheme design such as scheme maxima, performance periods and targets for annual bonus schemes, LTIPs and share option schemes.
Other important elements of policy such as shareholding guidelines and implementation policy.
Non-executive director and chairman fee levels plus committee chair and membership levels for a broad range of committees
Executive and non-executive director shareholdings.
---
FTSE 100 - Mid-250 - SmallCap - Global companies
AIM - Fledgling companies
---
Our experienced team of reward professionals have spent more than 20 years working with executive remuneration data. Steve Glenn, who leads the team, has extensive experience of sourcing and analysing pay information from published annual reports from various countries.
We are committed to providing independent and impartial data on boardroom pay.

We regularly update the structure of the database to reflect changes in policy and practice and can provide additional tailored information on demand.
We're busy analysing the latest FTSE 350 and smaller company remuneration reports. We'll tweet anything that catches our eye! Please visit: https://twitter.com/summit_exec_pay